Taranaki's best places to keep cool this Summer
With pohutukawas flowering well before Christmas, indications are we're in for a hot summer. There may well be times it gets "too hot" … you can't sleep, you're sticky and you just want some relief.
Live has hunted out the best swim spots, fabulous ice creams, breezy shady places to loll about in — and the best air-conditioned sanctuaries you can find. Plus some outright "cool" places to explore.
IMMERSE YOURSELF
One of the pleasures of a Taranaki summer is our abundance of water. With over 300 waterways radiating out from Mount Taranaki and around 263 kilometres of coastline, you're never far from an idyllic place to cool off.
The Beaches
The Tasman Sea can be a bit of a lottery when it comes to water temperature. Cold currents can come through at any time adding involuntary yelps and squeals to your swimming experience.
They mingle nicely with the various "ooch, ooch, ouchies" coming from the people running across the hot black sand (ALWAYS take a pair of jandals to a Taranaki beach and make sure all the kids have footwear too … unless of course you want to develop their sprint cadence and foot turnover).
Mornings are usually the best time to hit the beach as winds tend to be mere breezes resulting in perfect wave conditions. Westerlies often spring up in the afternoons making the sea a bit messier, though water temperatures usually increase as the day wears on. Come evening, winds often die back again and a swim before heading home can help everyone keep cool before going to bed.
Fitzroy and East End Beaches are patrolled throughout summer and both places offer great cafes too (and sometimes free entertainment). The Fitzroy kids' pools have been upgraded and have new changing rooms beside them. They are due to open on the 17th of December and close at the end of February.
A beach tent or gazebo is a great idea to give you some shade, or shelter next to the driftwood teepees budding architects and builders have created. Bear in mind that they are unlikely to meet any sort of compliance code so enter at your own risk —this is a great time to exercise your commonsense.
Ngamotu Beach is the perfect spot to take the kids as it is the one beach in the city that usually has no waves — and the ice cream truck comes most days. With free barbecue areas, picnic tables, a playground, big shady pohutukawas and plenty of grassy areas for some cricket, touch or soccer, you can bring your own food and drinks and have a whole day of free fun!
Invite a few families and get your own inter-family tournament going.
There are also several cafes handy plus one of the best fish 'n' chip shops in town at Breakwater Bay (Catch & Co — they offer gluten-free batter too).
Back Beach is a popular surf beach, and you can swim and body surf here too.
At the base of Paritutu Rock you'll find the little bay called "Between the Islands". Because it has no stream running directly into it, this often has crystal clear water. You'll also find New Plymouth's famous sand dune here, but beware, recent erosion has taken away a lot of the sand and you may well discover some hard bits as you run down.
"Between the Islands" is also the launch point for intrepid swimmers heading out to the lagoon on the back island (again, be sensible … people frequently need to be rescued from here).
Oakura Beach is iconic. Just 10km away from New Plymouth, it's a classic New Zealand beach village that has grown. You can spend a whole day here and feel like you've been away on holiday, but without the petrol expense and hours in a hot car.
The beach is patrolled throughout summer, there's fantastic food trucks across the road and up in the village are several cafes and the ever-popular Butler's Reef — they often have great bands coming through during the summer (see ad P24).
Surf Highway 45 offers dozens of surf spots but also some secluded beaches to try — Weld Rd, Kaupokonui, Middleton Bay at Opunake and Mana Bay at Patea are all well worth the trip. While you're in Opunake, check out the Opunake Loop Trail Track — a delightful 5km walk.
North of New Plymouth, there's Urenui Beach (at low tide we recommend some 'mud soccer' on the mud flats), Onaero Bay, Mimi and Wai-iti Beaches plus Tongaporutu with its Three Sisters rock formations. There's also Mokau Beach and the secluded waveless Mokau Bay (best on a high tide and accessed down stairs at the end of Tokopapa Street, Mokau).
Keep It Safe
Know your limits and never swim or surf alone.
Swim between the flags, or if you are at an unpatrolled beach, before you get in the water, look out for any rips. There are a number of ways to spot a rip including calm patches in surf with waves breaking each side, a ripple pattern on the sand or small holes beneath your feet in the water.
Discoloured or foamy water and criss-crossed waves can also be signs. Storm events, sewage spills and excessive rainfall, can change the water quality quickly.
Get in the habit of checking trc.govt.nz "Can I Swim here?" to see the current status of popular bathing beaches and rivers.
The general recommendation is not to swim in rivers or at the beach for 3 days after a storm event or significant rainfall, due to potential pollution of the water, hazardous objects and unpredictable conditions.
At rivers, check the water before you jump in and make sure you're not leaping onto any submerged logs that could injure or snag you.
For weather forecast and tide times, see metservice.com
With many sunscreens proving to be unreliable in recent testing, keep out of the sun during the hottest times of the day (11am – 4pm). Wear UV screening long-sleeved tops and wide-brimmed hats and sit under trees, shades or sun umbrellas.
Drink plenty of water.
The Rivers
When westerlies get a bit fresh and turn beaches into sandblasting arenas, head up one of our walkways to the sanctuary of a river swim. With fresh running water, hair and skin don't get dried out and there's shady trees to lounge under.
You can also indulge in the ultimate Kiwi pastime — manus!
The most popular spot in New Plymouth for this is "Telecoms" (named after the business that used to be adjacent to the cliff everyone leaps off). Located at the end of Rimu St, just walk a few metres up the Waiwhakaiho Walkway and to the left you'll see a bunch of youths congregated waiting for their turn.
If you'd prefer taking the slow way down to the swimming hole below, there is a track.
This is one of my favourite spots to practice open-water swimming — it's like an open water pool about 100 metres long.
There's another swimming area further up the walkway we refer to as Pretty Place, which seems to be a popular place to take the younger kids and dogs.
The Waiwhakaiho River also boasts two swimming spots at Merrilands Domain (the one up-river has a range of manu-launching spots). Just outside of the New Plymouth boundary by Burgess Park is Meeting of the Waters, which can be accessed off two sign-posted entry points off State Highway 3. More cliff jumpers can be viewed from Te Rewa Rewa Bridge in Fitzroy, leaping into the swimming hole just upstream. Or you can just swim here — access is along the road to Lake Rotomanu and you can park next to the bridge.
There's a little cafe at the Waiwhakaiho river mouth too (on the large grassy area by the Coastal Walkway), that's open for the summer.
Te Henui Stream is no longer safe for swimming due to the residue left by the many ducks and gulls that congregate in the area, but it doesn't stop most people with families from playing in the water at the mouth of the stream, which gets somewhat of a flushing with every high tide.
Perennial family destination, Corbett Park (on the New Plymouth side of Oakura) offers great swimming. There's also a large sports ground great for kite-flying and impromptu sports matches, plus toilets and barbecue spots.
But my absolute favourite river to swim in is the Stony, out in Okato.
As one would expect, the bottom is indeed stony, and because of this the water is so clear it fizzes like champagne. It is also cold. The water comes straight off the mountain and tumbles into an ever-changing array of pools and swimming holes. There is no better spot if you want truly refreshingly cool water to swim in and I suspect this is where you'll find the Wim Hof devotees during summer. Well either here or Wilkies Pools on Mt Taranaki (see page 24).
Okato also has four cafes to choose from now and you can walk the Stony River Trail between swims.
The Lakes and Pools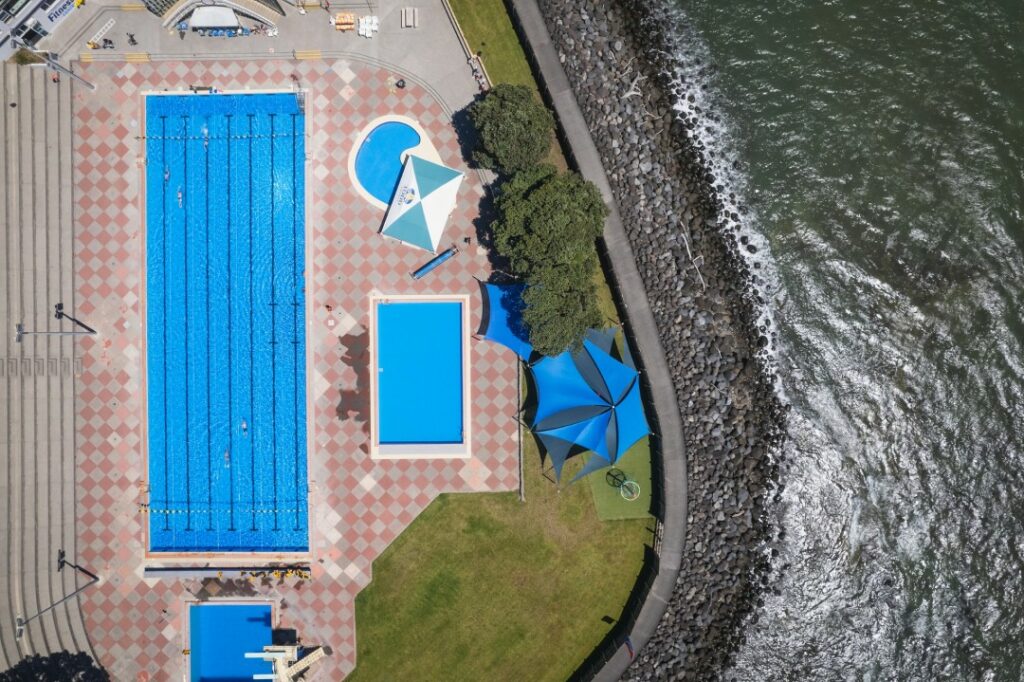 If you like your water warm and predictable, New Plymouth District Council's Todd Energy Aquatic Centre (outdoor area pictured) offers seven pools of varying depths and sizes.
The outdoor 50 metre pool is an absolute treasure as many New Zealand councils did away with their Olympic-sized pools in recent years and now just a few remain around the country. Thankfully the New Plymouth District Council bucked the trend and the concrete terraces, retro tiles and clock, have remained the same for decades. The place imparts a nostalgic feel other municipal pools just don't have.
On weekday mornings and late evenings (after about 6:30pm) you can often have a whole 50m lane to yourself!
With sun shades over the toddlers' and learners' pools and two diving boards in the diving pool, shady trees over a grassed area and the cafe just upstairs, you can lounge here for a whole afternoon. When the sun gets too much, pop inside to the three pools there. The main indoor pool boasts a wave machine, rope swing and often inflatable adventure courses.
There's a family pool for the littlies, a spa pool, plus two water slides as well!
The public pools at Ōkato, Inglewood, Waitara and Fitzroy, are safe and fun attractions for kids over the summer — and offer a different experience from New Plymouth's Aquatic Centre.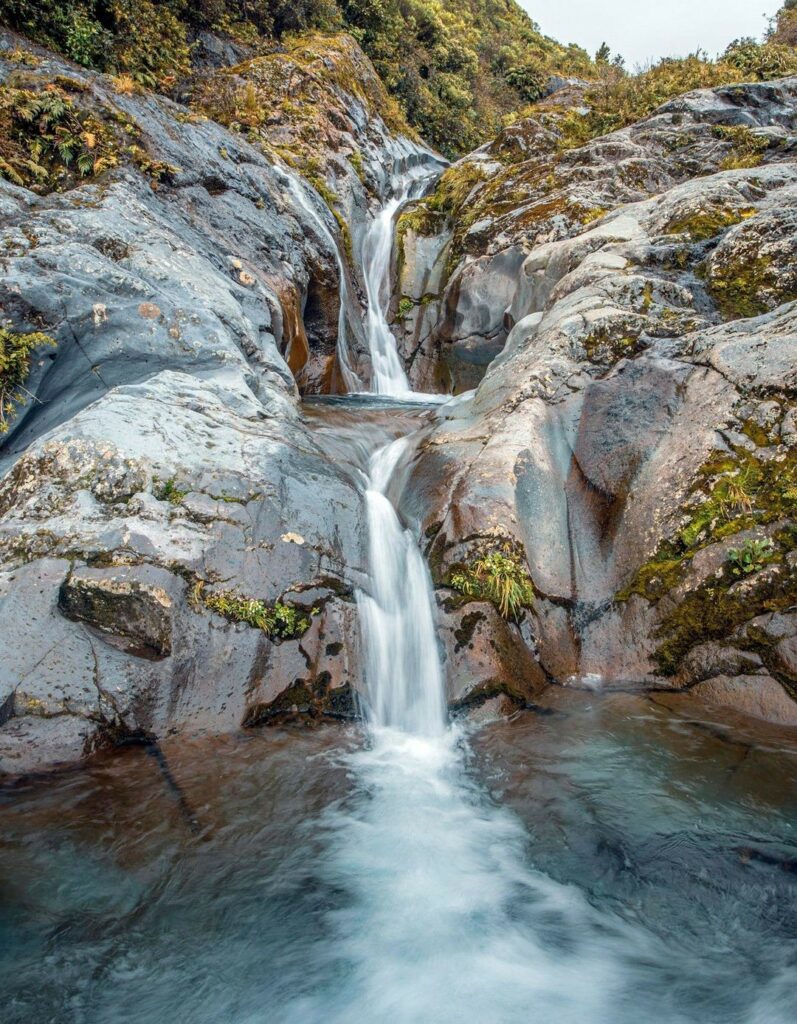 Surely the coldest swimming spot in Taranaki is Wilkie's Pools.
Located on Mount Taranaki, it's about an hour's walk from the Dawson Falls car park. With a natural water slide it's a popular Instagram spot and it can get surprisingly busy here.
Lake Rotokare is east of Eltham and is a great day trip option. There's a bird sanctuary here and you can walk amongst New Zealand's native birds, sometimes seeing breeds you haven't ever seen before. The lake is popular with water skiers and jet skiers.
Lake Rotomanu in Fitzroy is a handy spot to take the family for a blast on the biscuit. Kayaks, model boats, stand-up paddle boards, and jet skis are often on the water here with families enjoying picnics on the lakeside.
TAKE A HIKE or BIKE
When you've had enough of blazing sunshine, it's time to go undercover.
Taranaki is riddled with trails shielded by lush leaf-covered trees (Waiwhakaiho, Te Henui and Huatoki Walkways are all ideal places to escape the sun and any wind) and of course our mountain is usually a few degrees cooler (though not always!) than it is in town.
There are bush clad walks aplenty on the mountain — head up to the information centre at North Egmont or pop into the iSITE in New Plymouth or Stratford. Another great resource is the Department of Conservation website doc.govt.nz which features directions for various hiking tracks and tramps around the region, along with the latest information on any alerts that may be in place.
The website www.taranakitrails.nz showcases the region's cycling and walking trails.
Here you'll find information to help pinpoint the right trail for you and visitor services you might need. It basically brings together information on every conceivable trail in the region, encompassing parks, bush, beaches and more.
Feel the wind in your hair — or bike helmet — and spend a day cycling along the Coastal Walkway while you explore the beaches, rivers, pools, art galleries, library, shops and cafes from Back Beach to Bell Block. With good company, togs, towel and a bike lock, you can make your own itinerary with strategic stops along the way.
Caption: Lake Mangamahoe on the outskirts of New Plymouth is a gorgeous spot to hike and/or picnic and the mountain bike trails here are hugely popular.
KEEP YOUR COOL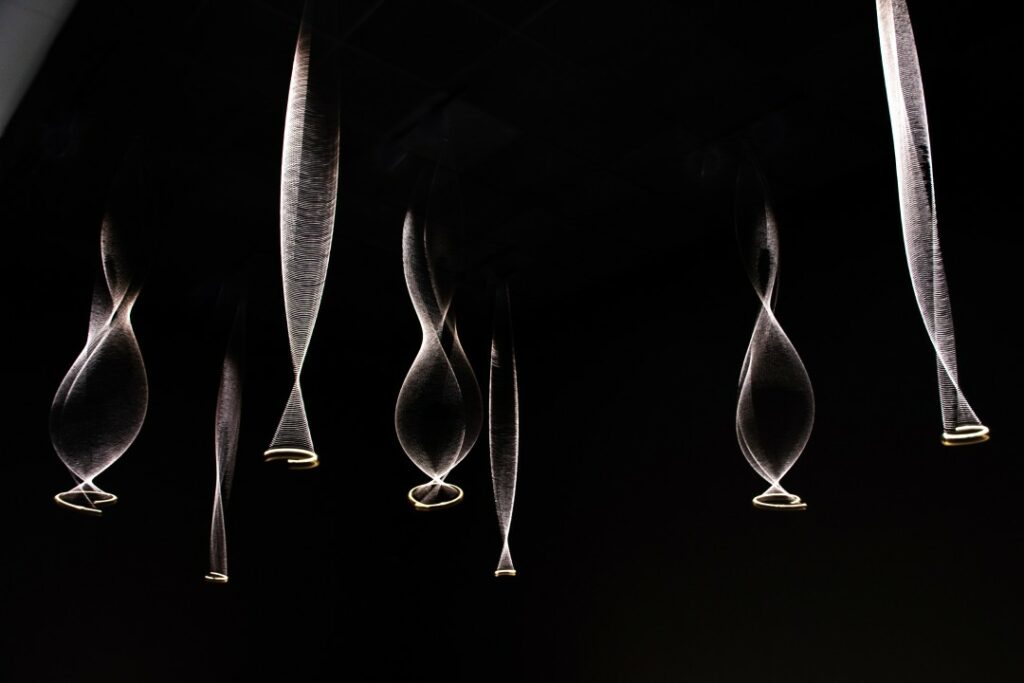 Air-conditioned comfort is sometimes the only solution for frazzled families who overdid the sun the day before, or if you simply wish to avoid the hottest times of day.
The Govett Brewster Art Gallery is always a cool place to be in summer, not only for its air conditioning but also its exhibitions and cultural vibes.
Check out Len Lye's Sky Snakes in Gallery 6, until the 6th of Feb, and then Wand Dance from the 25th of Feb.
Te Au: Liquid Consistencies is an exhibition that just opened about our relationship with water and runs until the 20th of March.
While not free, escape rooms are another fabulous way to entertain the whole family while keeping cool. Escapinator (formerly Escape Masters) offers three different themed rooms to try and escape from in under an hour. All air-conditioned, their popular sets include a train, a pirate ship and a zombie lab.
At Bowlarama families can evade the sun — and each other — at Taranaki's only Laser Tag facility. With air conditioning throughout, Bowlarama also boasts 16 lanes of 10 pin bowling, an 18 hole glow-in-the-dark mini-putt, air hockey tables and arcade games (see ad P33).
In January, Kids Korner is opening right next to Bowlarama at 28a Dawson Street.
The building will house an indoor children's playground for toddlers to 12 years, with soft play structures for the younger children and a Ninja course for the more adventurous kids. There will also be a full cafe with a lovely outdoor eating area, and will give Bowlarama and Kidz Korner approximately 70 car parks.
PukeAriki, New Plymouth's joint museum and library, can keep the family entertained — and it's free! There's a cafe and restaurant, or you can take your own food and have a picnic on the shaded seating outside the library. If you haven't been to the Nekenekehia Tukua exhibition yet, it's well worth visiting (see ad page 113; also Live's story in our Aug/Sep issue at livemagazine.co.nz).
At the other end of town, there's Events Cinema with its comfy upgraded seats and blissful 19 – 21 degree climate. Summer blockbusters due these holidays are:
Avatar: The Way of Water releasing 15th December — besides reqular Digital 2D it will play in 3D HFR also.
Puss in Boots: The Last Wish releasing Boxing Day for the family films, Tad the Explorer: The Mummy Adventure
In January look out for Babylon, Steven Spielberg's The Fabelmans and Tom Hanks starring in A Man Called Otto. Also The Lost King starring Sally Hawkins and Steve Coogan.
Check out the local art at Gover Street Gallery and popular ice creamery, State Gelato, just around the corner on Devon St East. There's a whole host of eating and coffee options in this area of town, plus one of three downtown breweries.
International food choices abound throughout the CBD offering up a fantastic array of flavours to try plus you'll find a host of fabulous cafes tucked up side streets and down alleyways.
If you're new to town or simply haven't been out in a while, make a point of trying out a few different ones this summer. A great resource to inspire you is Feastival, on from the 16 – 19 Feb (see pages 98 & 99). They offer a great website too feastival.co.nz where you can find food inspiration all year round.
Boutique retail shops along Devon Street offer sanctuary from the sun, service and selection. You'll find delightful options throughout town and browsing in air-conditioned comfort is a perfect escape when it's simply too hot outside.
There are some real treasures amongst our suburbs too — Fitzroy Village and Moturoa shopping areas in particular — and try some of the region's smaller towns too.
Or enjoy the early morning sunshine and fresh air at the weekly Farmers' Market held at the Huatoki Plaza every Sunday from 9am until midday. Stocked full of fresh produce from local artisans, it is the place to get a true taste of Taranaki (see ad P35).
Lastly, see how many murals you can find in the central city … they make great instagram snaps and it's a bit of a treasure hunt for the kids.